Welcome to Wednesday!  I was half convinced all day yesterday, that it was Wednesday already but no such luck.  I have been doing this to myself a lot lately and I am not too fond of it

 It's one thing to think it's only Wednesday and then realized op, nope, THURSDAY but NOT the other way around… that is just depressing.  But anyways, since it IS Wednesday, it means it's time for another edition of What I Ate Wednesday hosted by Peas and Crayons!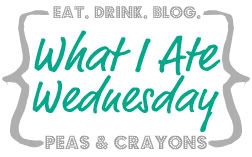 This week I took pictures of my eats from the day I did my first ever 20 mile training run for my upcoming marathon!  So be warned, it may look like a lot of food because, well it was
 I also had some random other bites that I didn't photograph and have now forgotten… I do that a lot – forget things.  Oops!
I had been having almost uncontrollable hunger for a few weeks awhile back so I decided to try having an actual breakfast before these long training runs and then just waiting a bit to leave.  So far, it's been working awesomely and I have been able to not feel that weird ravenous hunger that I had been feeling.  So before today's run, I had a very delicious bowl of oatmeal and a frozen blueberry waffle!  My oats were topped with a banana, a little cashew butter, a little almond butter and some blueberry jam!  I could eat these oats every single day!
Then I ran for hours and hours and hours… and came home and immediately was starved!  This is very strange for me though.  Normally my appetite is gone on long run days and I have to force myself to eat but not today!  Stomach was growling when I walked  in the doors!  To get me through an ice bath and lots and lots of stretching, I had a smoothie and mostsome of this bag of trail mix.
This is my current favorite smoothie combo – coconut milk, banana, frozen pineapple and vanilla protein powder.  Tropical and refreshing!  I think it tastes a little like a pina colada
 You know, without the delicious flavor of rum anyways
Lunch was served not too long after showering and getting ready for the day.  I had two chicken salad sandwiches, two pickles, some delicious Hawaiian style kettle chips from Trader Joe's and a Chocolate Coconut water for dessert.  Yum!
A few hours later, I was starving again!  Shocker

 So I had a snack of two over easy fried eggs, two toaster waffles with almond butter and honey.  I loved this snack and I wish I could bring this to work with me on the weekdays!  I want this now
Then my Sister and I drove up north to our parents house to celebrate my Dad's birthday.  We planned a grill out – in March!  Crazy!  But it turned out delicious!
All that driving and stuff made me hungry again so we snacked on a little fancy appetizer platter before dinner!  Only the best Old Wisconsin Pepp bits and Dill Pickle Lay's potato chips.  Meat + salty pickle flavor = delicious and totally not nutritious!  Healthy, ok, maybe not but that's not the point

Dinner was really, really good but the picture turned out kind of blah… for my Dad's birthday dinner, we grilled ribs, shrimp, carrots and sweet potatoes.  These ribs turned out SO good on the grill however my mom made them.  I know they cooked in the crock pot for hours and hours so that probably helped too but oh my tasty were they good!
We didn't make a cake because we were trying to be all "avoiding desserty" but after dinner I could not stop thinking about ice cream… I ALWAYS crave ice cream the night of a long run… Of course by me talking about it, everyone was quickly on board with some DQ!    I honestly cannot remember the last time I had Dairy Queen or even ice cream in general… and it tasted beyond delicious!  Plus my mom had coupons!
Little known fact, I worked at a Dairy Queen for 6ish months when I was 16 and I can still make a mad bowl of soft serve ice cream complete with the dollops and swirls!  I used to love making the banana splits because they were actually fun to assemble.  Blizzards on the other hand were my nemesis.  So I was kind to this DQ employee and ordered a banana split – for the potassium of course

Oh man, looking back I had some really delicious food again this week.  I think I say that every week though so maybe I am just in love with food in general
 But that's not really a bad thing, right?  It's kind of hard to run 20 miles so I think it's important to fuel back up after the fact.  I could have been completely healthy but where is the fun in that so instead I shot for some healthy and some not so healthy to balance out all those nutrients
Hope everyone is having a good Wednesday!
Question: What do you crave after a long run/work out?